IMPORTANT: If you've already purchased miRack on iPad, you will not be charged twice even though it may look as a separate purchase when viewing the app in the App Store on iPhone.
Surely creating complex patches is better done in miRack running on a big iPad Pro screen, and at first an iPhone version wasn't planned. However the recent addition of audio input support made it possible to use miRack to build modular audio effects running in the background. And finally the MIDI learn function added in the latest update allows to control a patch using external hardware or other apps, so that in many situations, the screen size is not important anymore. And of course some may want to use iPhone for patching for other reasons.
Therefore I'm happy to announce that miRack version 2.00 is available on the App Store and is a universal app now working on all devices running iOS 12 or later.
One other change in this update is a new 1-finger pan mode (enabled in the Tools menu and enabled by default on iPhone). It allows to pan the rack with just one finger which is more convenient when holding an iPhone.
·
Below I collected some links to tutorial videos that should help beginners to get started with miRack and modular synthesizers in general. This is just the first batch, the post will be updated.
Very good quality beginner-friendly tutorials starting with miRack operation and basics of modular synthesis and moving to advanced topics. New videos added regularly, so the list here may be incomplete.
The same, great regularly updated tutorials, focusing on individual modules and features of miRack.
Many of these are not tutorials, but the patches are shown in videos and are simple enough to give an idea how to make generative music and/or use certain modules. See the playlist for more videos as only the ones with descriptive titles are included below.
Omri specialises in creating VCV Rack tutorials (as well as hardware modular and music creation), so some of the modules shown in videos may not be available in miRack, but definitely see his channel for great modular synethesis content. Below are some of the tutorials explaining individual modules that can easily be followed in miRack.
·
This build introduces audio input support, allowing to build modular audio effects and use miRack as an effect node in Audiobus, AUM and other IAA hosts. Also the module browser is now fullscreen with vertical scrolling and better performance for more comfortable navigation in the growing collection of modules.
Full changelog below.
App Features
Audio Input support - miRack can now be used as an audio effect inside Audiobus AUM, or directly with audio hardware.

New fullscreen module browser - simplifies navigation in the growing module collection.

An option (in the Tools menu) to hide cables - port interactions are disabled, too, so that module controls can be operated without worrying about accidentally breaking any connections.

Toolbar button to switch to an IAA host app when connected via IAA.
Modules
3 new NYSTHI modules: Sussudio - multi-head sampler, The Cage - advanced quantizer/sequencer/switch/bridge, and QQ - visualization device.
Fixes
Cables will now not be disconnected when just touching a port.

Fixed a crash when loading Scala files into NYSTHI Scala Quantizer module.

Slider sensitivity increased.
·
130+ new modules (most notably there are sampler and recorder modules now), user interface, usability, and MIDI improvements in this update.
New Modules
NYSTHI
A collection of 100+ modules. Advanced samplers and recorders, oscillators, effects, utilities and a scope - modules for every need, many of which have visual design you won't find anywhere else.
Geodesics
Unique modules loosely inspired by astronomic events and physical theories. "The goal is just to see how science can inspire us to create new music."
MSM
13 new MSM modules - many of them add interesting new outputs, parameters and modes to standard modules.
Turning Machine and more
Turning Machine by Stellare Modular - a random looping sequencer, based on the amazing Music Thing's Turing Machine Eurorack module by Tom Whitwell.
cf PLAY and PLAYER samplers - these are simple modules when you don't need advanced functionality of NYSTHI samplers.
Notes (found in the end of Basics list) - add short notes to a patch. It's resizable so can also be used as a spacer between other modules.
As always, thanks to all module developers!
App Features
Added virtual MIDI port option to MIDI modules to simplify MIDI routing into miRack. Specifically, miRack can be selected as MIDI destination in AUM.

Added indication when a module is being or ready to be moved, e.g. after touching and holding for long enough.

More predictable module moving, smoother zooming, and other improvements to touch handling.

Improved rendering of module lights (borders, antialiasing).

Reorganised items in module menus to reduce vertical space they take and to prevent destructive items to be touched accidentally.

Module menus (and context menus for module components that provide them) can be shown with double tap in addition to two-finger touch.
Fixes
Fixed parameter value smoothing (when adjusting knobs), removes audio artefacts in some cases when adjusting knobs.

Fixed Delete menu item missing for "placeholder" modules (e.g. when opening VCV Rack patches and some modules are not available in miRack).

Fixed wrong module sometimes being added to the rack after double tapping empty space in module browser.
·
miRack has been added to Patchstorage! Patchstorage is a place to share patches, presets and projects for audio and video software and hardware. Please see below for some notes regarding uploading and downloading miRack patches to and from Patchstorage.
As currently miRack uses a folder-based format, you have to zip it first to upload and unzip after download. This is very easy on iOS 13 though, just touch and hold a patch in Files app and compress, then upload via browser. I will move to a file-based in one of the next updates, so this will be easier.

You have to provide an image for each patch you upload, so I suggest just make a screenshot and use it, this is pretty easy too. In future there hopefully will be an API so that Patchstorage will be accessible from within the app.
·

Valley modules
MODULES
FEATURES
Home button in document browser to jump to miRack patch folder - on iCloud, if enabled, local otherwise.

Audio buffer size configurable in Advanced Settings in Tools menu (Background Audio switch moved there, too).

CPU Meter (enabled in settings).

Uniformely formatted in-app manuals for modules accessible from their menus and from the module browser. The manuals may not be available for all modules at the moment, this will be addressed in future updates.

Quick Help for UI controls - shown on the first launch and from Tools menu.
BUG FIXES
Dark Mode issues fixed in various places.

Fixed the now separate Sheep module becoming Tides when reset from its menu.
·

Patch by VCV Rack Ideas channel
MODULES
Added HetrickCV module pack.
Modules based on Fundamental plugin source code are now called Basics.
APP NEWS
Added support for loading patch files that became archived during sharing.
Tweaked pan and zoom behaviour to avoid unwanted accidental zooming when panning.
BUGFIXES
Fixed stray lights appearing to the right of Impromptu Modular Foundry module.
Fixed Impromptu Modular SemiModular Synth panel not appearing.
Fixed Mental Buttons module causing crash when added.
·
miRack started as a fork of VCV Rack - a Eurorack-style modular software synthesiser. The goal was to fix the performance issues, add multithreaded audio processing (which VCV Rack didn't have at that time), and ultimately to make it usable on single-board computers like Raspberry Pi and ASUS Tinker Board. This version is available at mi-rack/Rack GitHub repo, along with a web version that was made available later using Emscripten technology. I even tried prototyping some hardware that would be based on Tinker Board, have a touch screen and some number of encoder knobs to be mapped to virtual knobs on screen, but that project didn't go very well.
However it was clear that a touch screen is much better suited for dragging virtual cables between modules and for using knobs and other controls than a mouse, and also that there's no need to build hardware when there are iPads with big screens and fast CPUs.
Unfortunately, due to a mistake during early performance tests (which made them show performance on iPad worse than on Tinker Board), I abandoned that idea. Only recently I fixed the error, redone the tests and started porting miRack to iOS.
Now the work is done, and miRack will soon be available on the App Store.
·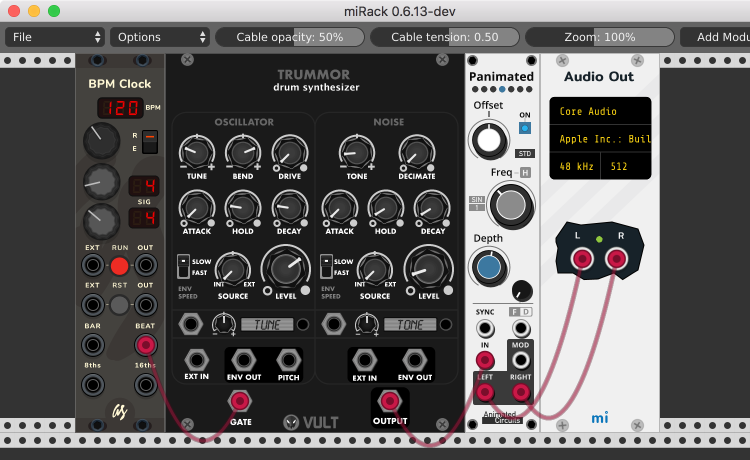 Great news! I've managed to implement loading of closed-source VCVRack plugins into miRack. This means it now makes sense to build packages for desktop operating systems. And soon you will be able to enjoy all the benefits of miRack, including lower CPU usage, more responsive UI and multithreaded processing - and still use all the same plugins you have, including commercial ones you purchased.
Of course this does not affect miRack running on ARM boards - only open-source plugins can be used in that case because they need to be compiled for ARM in first place.
·