Showing posts tagged #Dwarf Fortress - Show all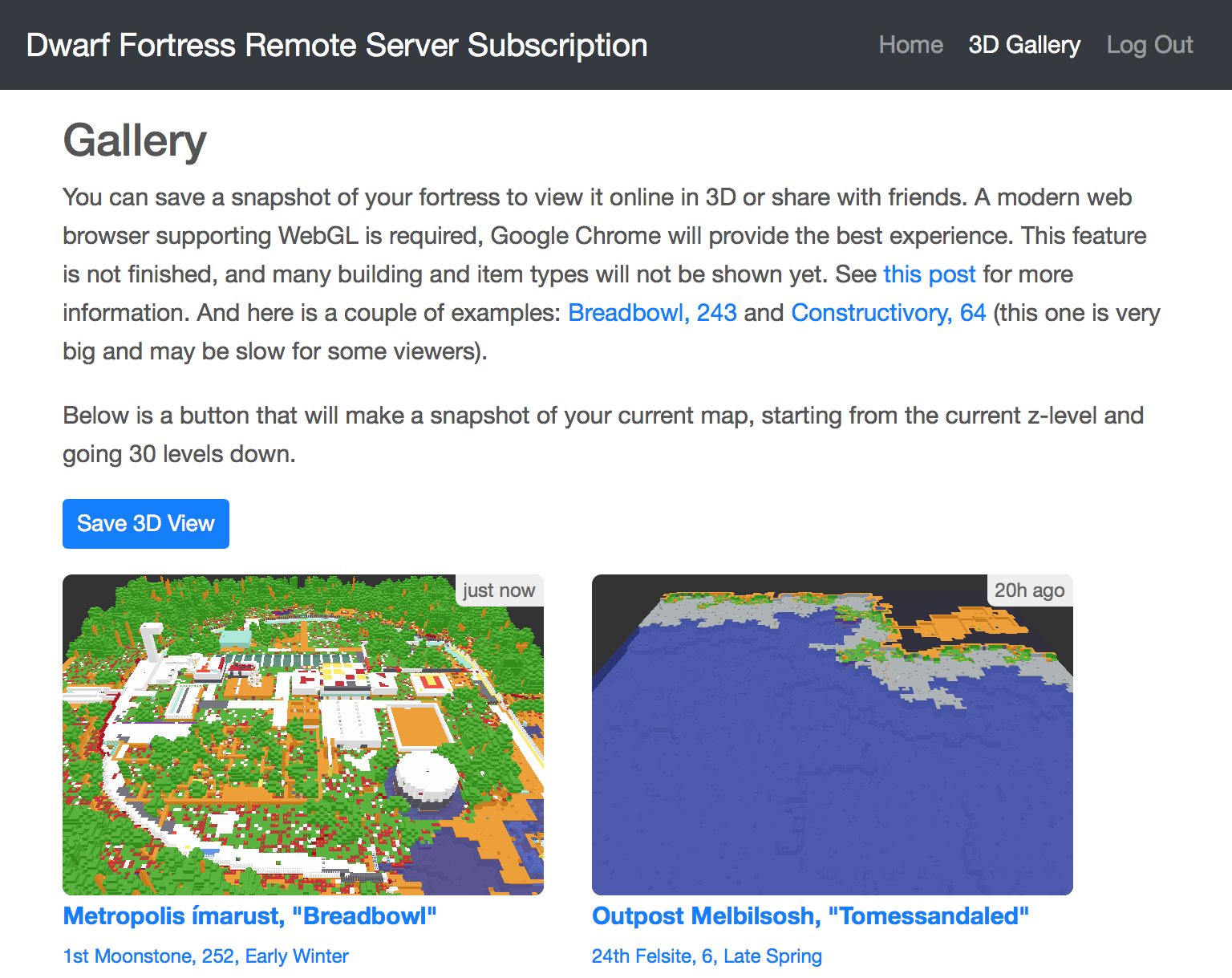 This is the same 3D viewer I made long time ago and it's still not quite finished, but it's good enough to look at your fortress in 3D and share it with friends. The original viewer is still available for everyone, but now Server Subscription users have a gallery page with all their map snapshots, and also a button in the iOS app to save a snapshot. Links to view individual maps are public and thus can be shared with anyone.
The gallery has actually been available for some time now, so for those who already knew about it, the latest changes are the addition of previews and Delete button.
·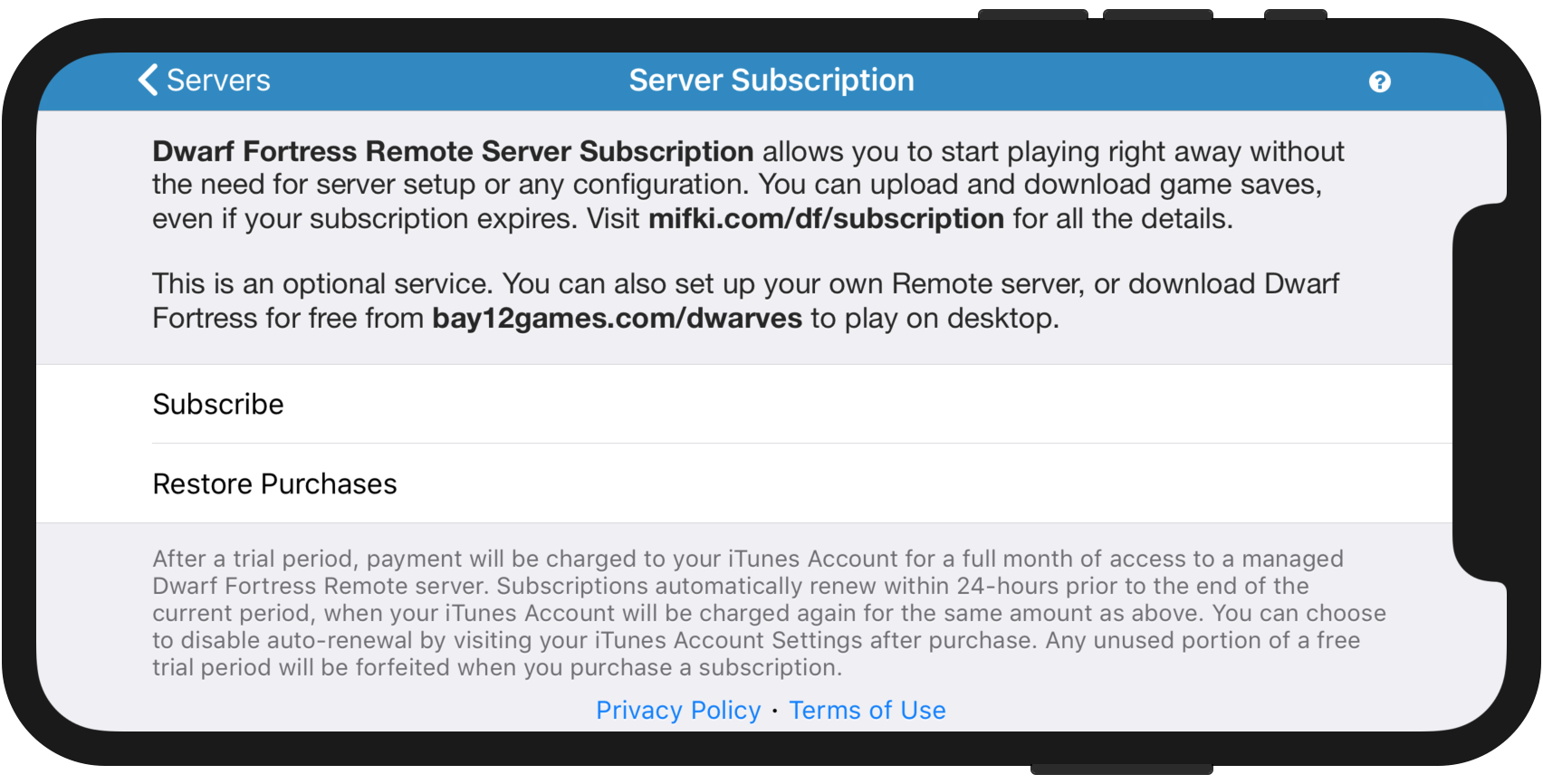 Server Subscription has now been available for several days already, I've fixed some glitches, thanks to the brave first users, so it's time for a proper announcement.

Server Subscription provides, well, a cloud server with Dwarf Fortress + DF Remote running on it. The price currently is 4.99 USD or a corresponding amount in other regions. A free 3-day trial is available.
No need to configure and maintain your own server, just download the app and start playing. Also it will help who were not able to set up a server at home due to their home and mobile network configurations.

You can upload and download game saves, even if your subscription expires. So it's easy to generate world, embark and start playing on desktop, continue on the go, and again on desktop when you're back home.

Additional online services. The first one to come will be an online 3D map viewer. The same as I've already mentioned which is available for everyone, but subcribers will have a gallery in their online account, a button to make a snapshot of their current game, and also a button in the app for that.

Then, in no particular order: A plugin/command/tool to synchronise local games with online account. A way to play in the browser (like my old Web Fortress and not a custom UI like in the app). And some sort of a successive multiplayer support.

And last but not least, subscription users get updated and bug fixes faster because it's easier to investigate any issues I notice.
Subscription is an optional service that provides a pre-configured server with DF Remote. Remote server plugin will always be free for installation on your own computer. Dwarf Fortress is a game by Bay12Games available for download free of charge. Support them!
·

Current Dwarf Fortress Remote server setup procedure is as simple as it can be - just download a single package for your operating system, enter one command in the game console, and scan the displayed QR code with the iOS app. The server can also be easily set up on Linux using a Docker image or cloud-config scripts for popular cloud hosting providers.
Even being that simple, it still has to be done, i.e. you can't just download the app from the App Store on a mobile device and start playing. In rare cases, users may also have troubles connecting to their home computer running Remote server if both home and cellular network settings (as configured by service providers) are too restrictive.
Today, I'm excited to announce Dwarf Fortress Remote Subscription - an optional service that provides access to a managed server running the game with Remote plugin and allows to start playing right after installing the app (and subscribing) with no additional setup required. Such server should be accessible from any network and will also help people having connection issues mentioned above.
It's possible to upload and download your saves at any time, even after cancelling your subscription, and this service is completely optional. Dwarf Fortress is a game by Bay12Games available for download free of charge. Remote server plugin will also always be free for installation on your own computer.
Dwarf Fortress Remote Subscription will become available in Q2 2018. Leave your email on the new subscription page to get notified once that happens, or follow just @mifki on Twitter for updates.
·
This update mainly contains small user interface fixes, but also may help users who were entering invalid server addresses and were incorrectly getting an "invalid password" message.
·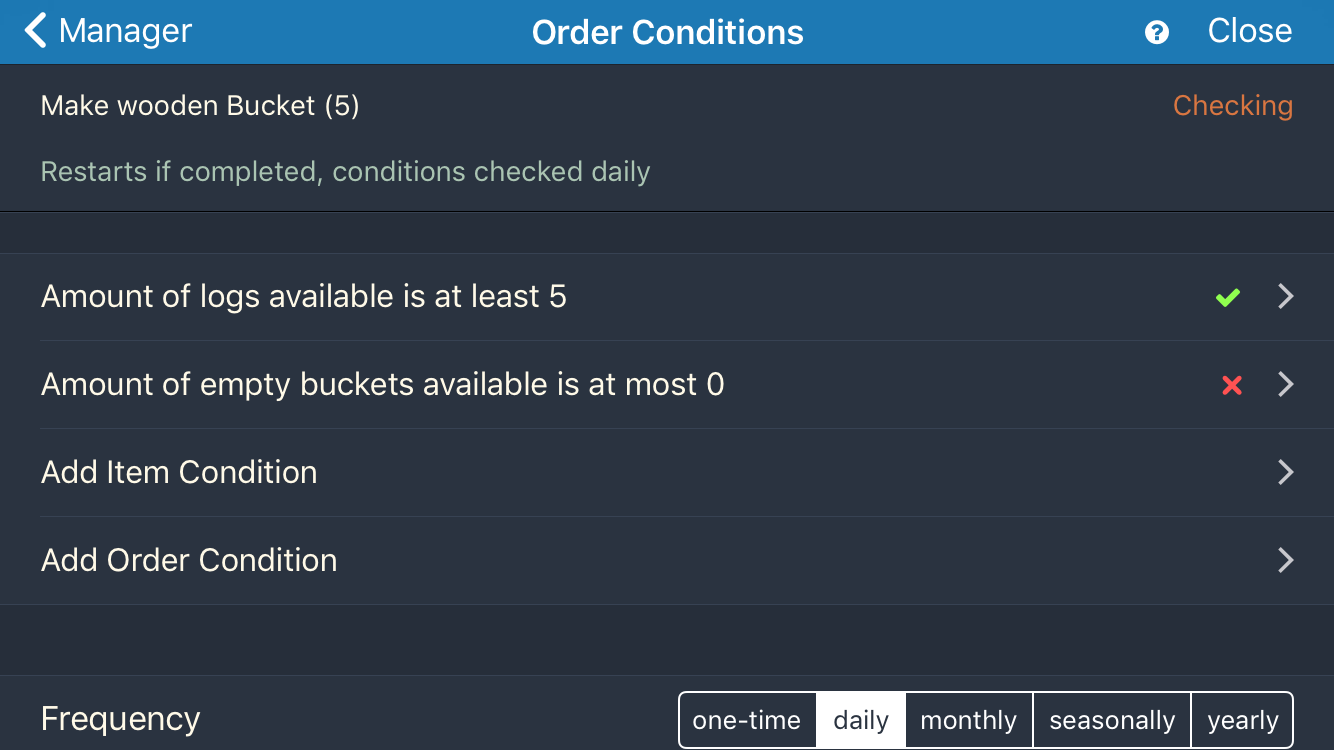 This is a late announcement about new features available in the latest DF Remote app update which was released couple weeks ago.

The biggest change is support for manager orders conditions, which allow to automate a great deal of the fortress life.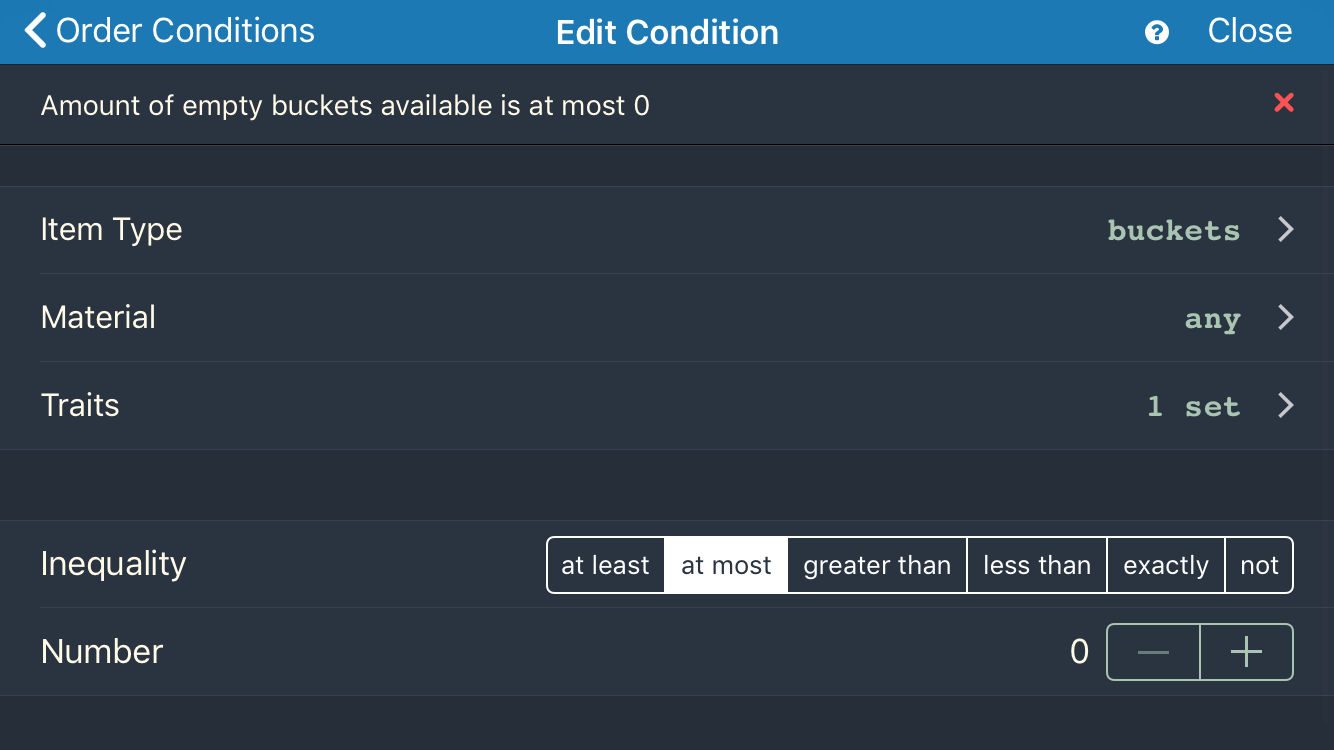 Also, when searching for job types to create a new manager order, individual words will be matched instead of whole strings. This means you can type "smelt platinum" or even just "sme p" to find "smelt native platinum ore" job:

·
Digital Ocean is a great way to run Dwarf Fortress Remote server in the cloud — it's cheap, easy to set up, and provides decent performance, especially for newer players who don't have very big forts.
Recently I got wonderful news from Digital Ocean in my inbox. They've updated their pricing and doubled the amount of memory available on $5 and $10 plans. Also, apparently in the very end of the last year, they introduced a $15 plan with even more memory. Dwarf Fortress is single-threaded, so here I'm talking about plans with 1 CPU only.
So, current plans best suited for running Dwarf Fortress Remote server are the following:
| Monthly Price | CPU | Memory |
| --- | --- | --- |
| $5 | 1 | 1GB |
| $10 | 1 | 2GB |
| $15 | 1 | 3GB |
| $15 | 2 | 2GB |
The $15 plan is flexible and although I said that DF is single-threaded, it may make sense to have less memory but one core just for simulation and another one for everything else. More testing will be needed to find out what's actually faster.
Remember that by signing up using this link, you will receive a $10 credit — that's up to two months of playing Dwarf Fortress.
·
Version 1.70 released today is a huge update that adds support for many Dwarf Fortress features there were not previously accessible via the app:
Hauling routes and minecarts
Stockpile/workshop linking
Designation priorities, marker mode, standard/marker toggling
Viewing kill lists for units
Outdoor access status for hives
Removing individual activity zone tiles
Viewing engraving descriptions
Checking/active/ready status info for manager orders
Choosing an image related to a historical figure for a job/order
Bug fixes:
Fixed pressure plate trigger configuration
Fixed some issues related to setting job/order details
Various UI fixes

Support for configuring manager order conditions didn't get into this release but will also be available in the next update soon.
·
In preparation for an upcoming big app update, new server update fixes activity/job titles shown for units in some cases, fixes issues with job/order details specification and shows the currently set image for a job/order.
Also, support for DF 0.40.24 has been removed, and support for 0.43.03 will be removed soon as well. If you're still using those and having troubles upgrading, feel free to contact support for help.
·